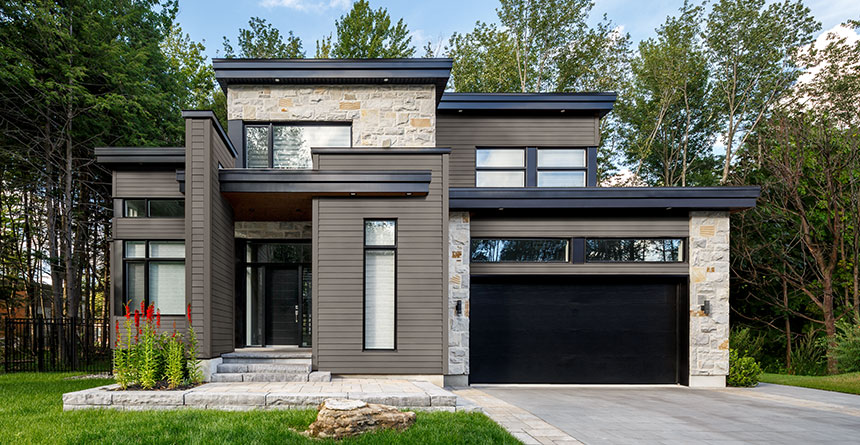 When it comes to selecting exteriors for your home, siding plays a crucial role. Siding will increase your home's energy efficiency, ability to safeguard your home against elements and home appearance. Your home's siding is the first thing that visitors will see when they come to your home. It will create that first impression and curb appeal.
Hence, spending some time selecting the right design and color for your siding is crucial. Without a doubt, the quality of your siding materials and installation will determine how attractive your house is in the long run.
When choosing exterior siding, the majority of homeowners today opt for conventional options like vinyl, natural stone, wood or aluminum. But, most of these options have their downsides, which is why we tell homeowners to select a siding option that is durable and sustainable. James Hardie Lap Siding is the most preferred siding option that offers many advantages compared to vinyl or wood.
There are several siding options available today which makes it hard for homeowners to pick the right one. But knowing the advantages, disadvantages, and cost of each siding option will assist you to gauge which will work well for your home. James Hardie Fiber Cement is the most famous siding brand used in America.
In fact, recent statistics showed that many homeowners who had bought vinyl siding, almost 70% of them confirmed they would have selected HardiePlank Lap siding over vinyl, had they been well informed. Here are the top five unique benefits of HardiePlank Siding you need to know.
5 Unique Benefits of the HardiePlank Lap Siding Homeowners Need to Know
James Hardie has manufactured various siding products, but none of them is more famous than HardiePlank siding. HardiePlank fiber cement is produced from a blend of sand, cement and cellulose fibers. Here are the unique advantages of HardiePlank Lap siding that make it a better option than vinyl siding as discussed below.
1. HardiePlank Siding Cost Advantages
Unless you are looking for the short-term labor and product costs benefits, HardiePlank siding is cheaper than vinyl. Let me explain here. Many homeowners will argue that vinyl is a more affordable siding option, but it ends up presenting a lot of tribulations and problems to them. For instance, you will use a lot of money repairing your vinyl siding compared to HardiePlank lap siding which is almost maintenance-free.
The maximum you want to pay for your vinyl is the minimum you can expect to pay for HardiePlank and other fiber cement products. In terms of energy efficiency, HardiePlank siding helps to reduce your power bills significantly. Homeowners who use Hardieplank fiber cement pay 14% less on insurance premiums than those of vinyl siding.
2. HardiePlank Fiber Cement Colors Flexibility
When it comes to colors, HardiePlank Lap siding is flexible. It utilizes Color plus Technology which makes sure that the final siding achieves 30% better fade resistance than the vinyl or wood options.
Colors are also matched using a computer meaning that you will get high consistency levels. Vinyl or wood siding options fade faster than HardiePlank lap siding. Vinyl poses problems especially when repairs are required since it's tough to match its colors. If you want lasting colors, you can only count on HardiesPlank lap siding.
3. James HardiePlank Fiber Cement Durability
Both Vinyl and HardiePlank siding have their durability advantages and disadvantages, but overall, Hardieplank is regarded as more durable. HardiePlank is more durable because of it almost five times thicker than vinyl.
The extra thickness of this fiber cement also implies that your home will be protected better. It has been manufactured to resist all forms of weather elements including hailstorms or winds that damage or destroy vinyl siding.
4. HardiePlank Lap Siding Safety Benefits
HardiePlank siding is a noncombustible material which has been approved to be used for fire-rated constructions. Vinyl, on the other hand, melts when subjected to extreme heat or direct fire. Hardieplank will not burn under any circumstance. This makes it a safer option compared to vinyl, which will melt when subjected to heat source or flame.
5. HardiePlank Siding Requires Less or no Maintenance
HardiePlank siding requires less maintenance than vinyl. Due to its composition James Hardie siding is resistant to hole boring bugsand will not rot. James Hardie provides a 15 year warranty against any peeling, chipping or cracking of its Colorplus® pre-painted planks. With James Hardie you also have the option to purchase primed planks that will allow you to paint or decorate at your own will. James Hardie will still warranty these planks as long as they are painted within two years of installation.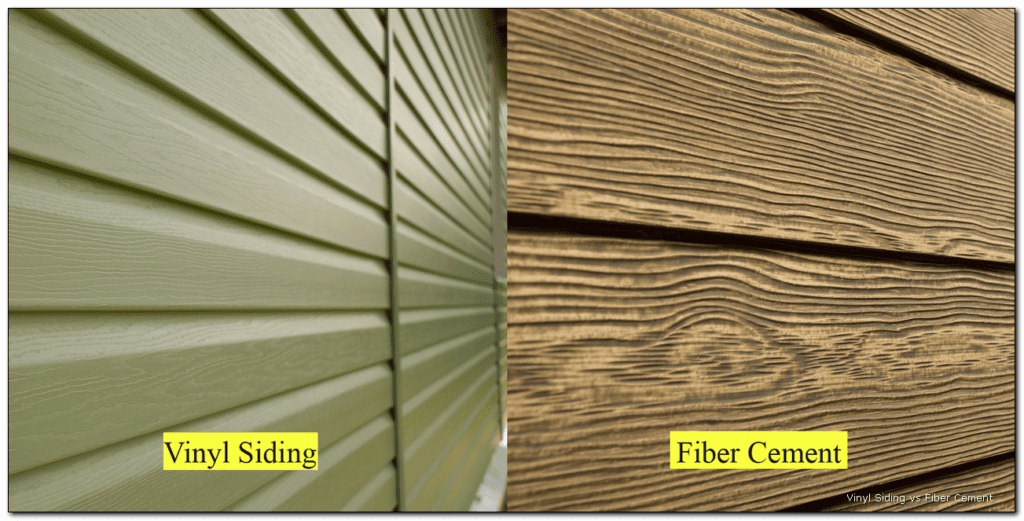 HardiePlank Fiber Cement vs. Vinyl Siding- Which one is the Best?
According to statistics published on the National Association of Remodeling report 2018, many homeowners were satisfied after the re-siding project was completed using HardiePlank lap siding. The fact HardiePlank wins on durability, color flexibility, maintenance, and safety, cannot be underestimated.
While vinyl is cost-effective, simple to install, the style and appearance of HardiePlank fiber cement will always appeal to discerning homeowners or buyers who desire a high-end look.
Final Verdict
If timing and cost are your biggest motivators vinyl may be the choice for you. If you are looking for a premium product that will stand the test of time and increase the market value of your home James Hardie siding is the way to go.