Countless roofs around the globe are plagued with the growth of roof algae and roof moss. They trap water, which gives a greater possibility for tear and wear even though these organisms do not cause the actual damage to the roofing supplies. There should not be any problem when it comes to roof cleaning as well as keeping them moss and algae free.
To those whose roofs are made from asphalts, wood, metal, concrete tiles or clay and some other sorts of materials, you have the greater tendency of having algae and moss build up on your roofs. Since these organisms need water to grow and reproduce those houses that are located in a place that experiences more rainfall and have constant elevated levels of moisture have more moss and algae growth. Huge trees that provide lots of shade on the roof may also promote moss and algae's growth. That is because morning dew and rainwater have a tendency to disperse slower on these surfaces due to the negligible amount of direct sunshine these roof surfaces are receiving.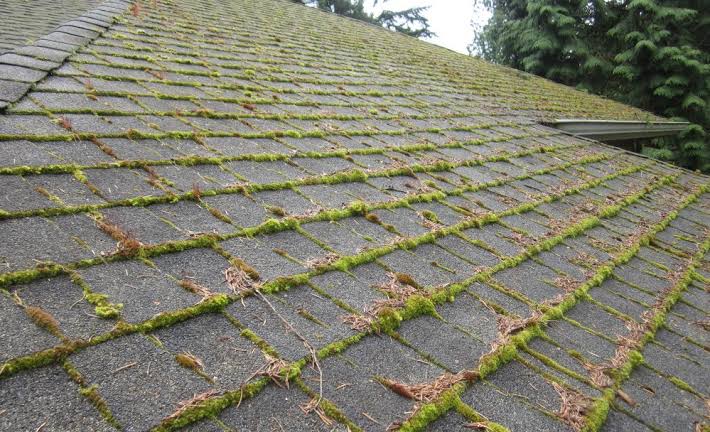 Algae's existence results in the discoloration on the roof. Algae are a type of cyanobacteria that is responsible in creating streaks and black stains on roofs. It can build up over time as it is taking its food on calcium carbonate and moisture. This eventually will show the black stains as this particular type of algae cultivate their dark and UV- protective exterior covering. Its buildup can speed up roofing materials wear and tear and may cause a raise in power expenses. This is because a roof that has been darkened by the buildup of t algae has the tendency to absorb the sun's rays. In this way, the house's interior will become hotter and increase the power fee.
For your quick roofing help, here are some tips on how to lessen moss and algae problems. A typical bristle scrub brush is an ideal tool to be used in removing the moss's low root from the shingles. However, in brushing, keep in mind that you do not brush up the roof.
This might destroy the bond involving shingle layers. A diluted bleach or chlorine solution is very efficient in dealing with those algae. However, they too can harm the nearby vegetation. Installing an algae- defiant shingles can be of help too.