Hail damage is one of the biggest causes of roof damage from storms, according to Angie's List. That's because hail storms typically include both wind and falling objects. Obviously, large hailstones cause more damage than small ones, but hail doesn't need to be large to wreak havoc to your shingles during a storm. Even tiny hail can make a significant impact when it beats down on your roof for more than a minute or two. Here's what to look for to assess damage to your roof.
How to Assess Roof Damage
Inspect the Roof From the Ground:  Go outside and visually inspect your roof from the ground. Look for loose or fallen shingles, missing pieces of metal or damaged sheeting around chimneys and vents and in the valleys where two sections of the house meet. Check for any damage along the edges of the roof. If you have suffered major damage, it is likely visible from the ground, but don't assume that if you don't see damage from your viewpoint that your roof has not been damaged. Some damage can be difficult to see from a distance.
Inspect Your Gutters: Use a ladder and inspect your gutters. Look for physical damage to the gutters, but don't forget to look inside for signs of roof damage too. Sometimes hail will loosen the granules on your shingles and wash them into the gutter. If you find roof debris inside the gutter, your roof has been damaged by the hail storm.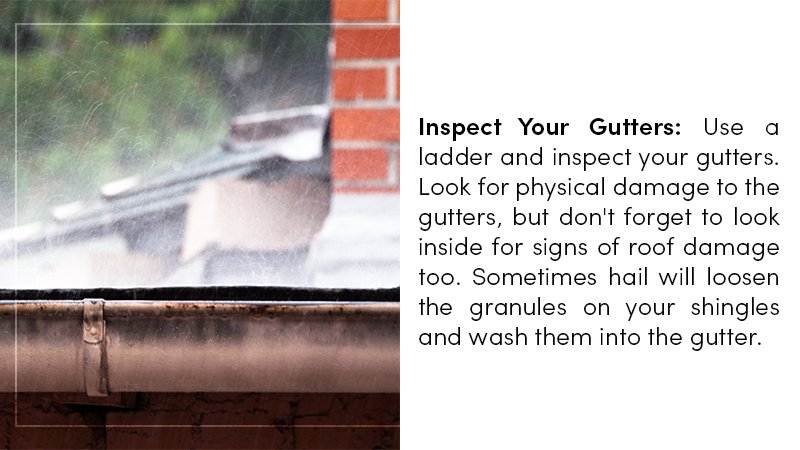 Visually Inspect the Shingles: Getting a close-up look at your shingles may be a challenge, but it will give you a detailed look at the storm damage. If possible, use a ladder to access the roof and take note of any dents caused by hail. Count the impact marks on one shingle and note that too. If you cannot access the roof safely, call in a professional to do the job for you. This is a good time to take a photo to document the damage for insurance purposes.
Check the Attic: Even if you cannot see the damage to your roof, an inspection of your attic may reveal leaks, indicating damage to the roof above.
Call Your Roofing Expert
Call your local roofing company right away to request an inspection of the storm damage to your roof. If the damage to your home is significant enough to require filing a claim with your insurance company, your roofer will advise you to call them. When calling your insurance company, make sure to include the day and time of the storm (this can typically be verified by weather or news reports). Follow these tips for documenting and verifying your claims:
Provide names of neighbors who also suffered damage from the storm.
Take photos of all damage. That means snapping a shot of the leak in the attic, as well as gutters filled with roof debris. Photos typically contain the time and date in the metadata and can be used to verify the day and time of the storm.
Make a detailed list of all damage.
If you are uncomfortable assessing the condition of your roof or shingles after a storm, contact us today at L&L Contractors. We can assess and evaluate the condition of your roof and can even provide you with a quote for the cost of repairs for insurance purposes.