A storm can cause damage to your roof. If a large storm has blown past, you should inspect your roof for signs of damage. Fortunately, the average person can inspect the roof without actually having to get up on the roof if they know what they are looking for. Here are four different types of damage you can spot from the ground. 
Damaged Shingles
Following a storm, your shingles, shakes or tiles may be damaged. Damage can be present in different ways. Shakes and tiles may be split or broken while shingles may be split or curling around the edges. If your tiles or shingles no longer lay flat against your roof, they are likely damaged. If a small area of shingles or shakes are damaged, the damage can be repaired. However, if the damage is extensive, a new roof may be needed.
Missing Shingles
Strong wind gusts can blow shingles, shakes and tiles right off of your roof. Following a storm with strong wind gusts, walk around the perimeter of your home and look up. If there are any missing shingles, shakes or tiles, you will likely notice discoloration on your roof. This discoloration is where the shake or shingle are missing. If you notice this, you will want to have roofing materials reapplied to help prevent damage.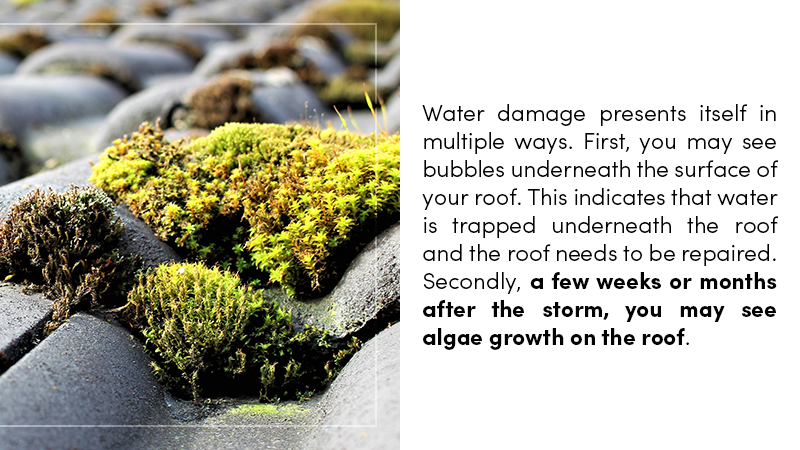 Water Damage
Following a storm, water damage may be present. Water damage presents itself in multiple ways. First, you may see bubbles underneath the surface of your roof. This indicates that water is trapped underneath the roof and the roof needs to be repaired. Secondly, a few weeks or months after the storm, you may see algae growth on the roof. Both of these conditions can be extremely damaging, so it is important to have them repaired by a professional.
Leaks
The last type of damage that you can spot after a storm is a leak. The easiest way to see if your roof is leaking is to go in your attic and look up. The attic roof is the underside of your roof. If you see water damage or spots on the attic roof, and it looks fresh or is wet to the touch, you know you have a leak.
Following a large storm, you may be able to spot some signs of roof damage from the ground. However, not every type of damage is easy to spot. As such, you should have your roof inspected by a professional at least once per year or after large storms to look for damage that you can't see from the ground. Here at L&L Contractors, we can inspect your roof and repair any damage we find. Give us a call and schedule your roof inspection with us today!