The average lifespan of a roofing system is around two decades or even longer if you give it the proper care it deserves. But various factors such as design, type of roofing materials, application, and professional maintenance could impact the longevity of your roof.
Your roof is a crucial multifaceted system built to insulate, preserve and safeguard the external structure of your home. Nevertheless, a functional, quality roof is an essential aspect of safeguarding your home.
Professional roof maintenance is an integral part of taking care of your roof and should never be overlooked. Read on to learn more on how to keep your roof in perfect shape while extending its life span with professional roof repair and maintenance services.
Why is Roof Maintenance Important?
While it may not be on top of your mind daily, your roof is one of the most crucial parts of your home. It protects you and your property from weather conditions and other harsh elements that your property is regularly exposed to every day. As a result, it makes sense that roof maintenance and repair become an integral part of your home's routine care.
In fact, roof problems stem from two major things; poor maintenance and an aged roof. Getting a roof inspection after several years can help you to know if your roof requires any repairs. Roof maintenance is the periodical inspection of all the vulnerable areas that could be susceptible to having damage or problems.
Aside from assisting your roof to last longer and avoiding frequent major repairs, there are many other advantages to maintaining your roof. Here are other reasons why professional roof maintenance is so crucial:
Increases Roof Lifespan: One of the best ways to extend the longevity of your roof is to hire the best roofing solutions provider for routine maintenance. Professionals can identify problem areas and handle small repairs that will help to extend the lifespan of your roof.
Saves Money: By regularly maintaining your roof , you can save hundreds if not thousands of dollars on repairs or replacement. Without regular, professional maintenance, your roof could potentially bring small problems to graduate into huge ones over time. And if not repaired within a short time, it could become more expensive to fix them later. Best of all, the cost of one-day maintenance and inspection is minimal compared to the overall cost of replacing and removing the entire roofing system
Resolves Problems Early: Of course, you don't love surprises. No homeowner wants to wake up one day only to find that they require a large roof repair in your home. Keeping up with regular roof maintenance services can assist catch problems early, reducing the need for huge repairs down the road.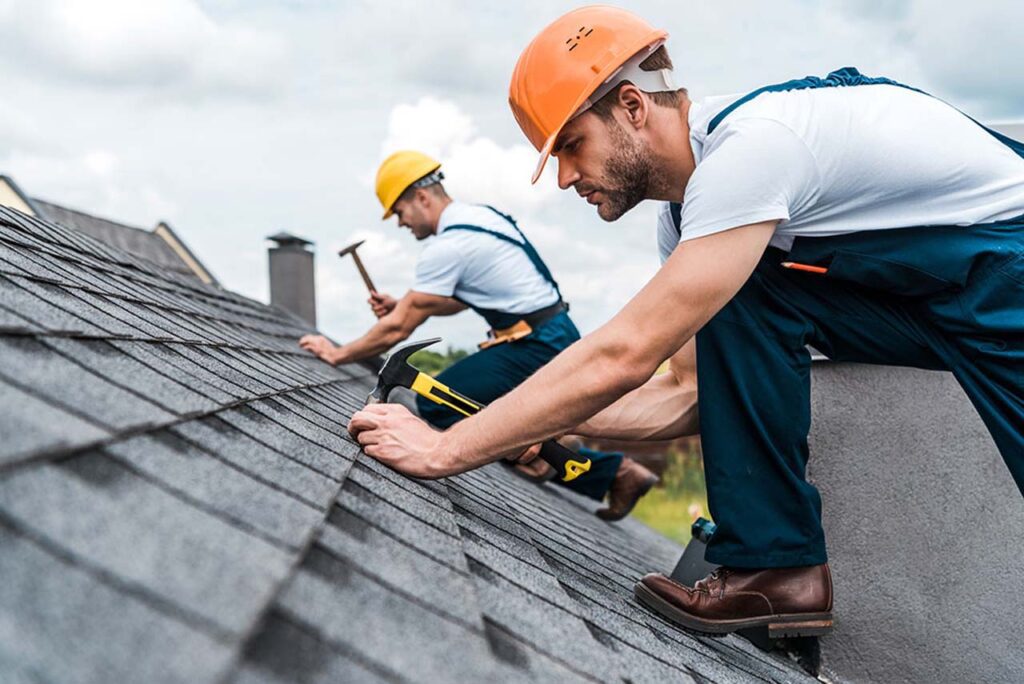 What Does Roof Maintenance Include?
Your roof does more than boost the aesthetic appeal of your home. It safeguards your property from external harsh weather elements while assisting to maintain a cozy temperature. As roofs begin to age, they start to develop problems. To make the most out of your roof, make regular maintenance your priority.
As a homeowner, you may be wondering what the process of maintaining your roof. There are multiple things that go into keeping your roof in great shape. Simply put, professional residential or commercial roof maintenance includes debris removal, gutter cleaning, mold removal, and general roof inspections or repairs.
To understand whether your roof needs any maintenance, it is highly recommended that you work with a professional roofing contractor. They will send their crew out and conduct a comprehensive roof inspection and offer an estimate. They will organize a time to come out and do the repairs or maintenance.
How Often Does Your New Roof Need Maintenance?
The question of how regularly your roof should be maintained is a top concern for many homeowners. First, the rate at which your roof requires to be maintained mainly depends on the kind of roofing material you have installed on your home. Some roofing material types are known to last longer while others are vulnerable to weather changes.
Most roofing contractors recommend doing inspections twice a year. Regular roofing inspections and maintenance have proven to extend the longevity of your roof significantly. Of course, the simplest way to maintain your roof is to hire a professional roofer to inspect the roof for you. Depending on the kind of roof, whether it be commercial or residential, your roof requires biannual, quarterly or annual maintenance.
Why Hire Professionals for Proper Roofing Maintenance
The roof is no doubt an important system for your home. Its main role is to safeguard you and your property from harsh weather conditions. So make your crucial investment and hire a professional roofer to take care of your roof. Hiring a professional roofer ensures that you use quality materials, the right installation, repair, and maintenance techniques applied to your roof. All these details can make a significant difference in the level of comfort and longevity of your roof in the long term.
Partner With a Roof Maintenance Service Company You can Trust
Professional roof maintenance services are a must for homeowners who want to safeguard their investment. Remember that roofing problems can be hard to identify especially if you aren't an expert and will get worse over time if left unnoticed.
If you are struggling to maintain your roof, hire a professional roofer like L&L Contractors to handle the job for you. Our experts will instantly develop a roof maintenance plan to help prolong the lifespan of your home's roof for years to come. Contact us for all your residential or commercial roof repair and maintenance service needs today.