Is your home missing something, but you just can't figure out what it is? Are you and your family slowly running out of space? As you live and grow in your home, you start finding things that you wish it had, or really wishing that it was bigger, or had more windows, etc. If you've been thinking about making some changes to your home, and perhaps needing a little more space or wanting an elegant add-on to your home, then adding a sunroom can be a great solution.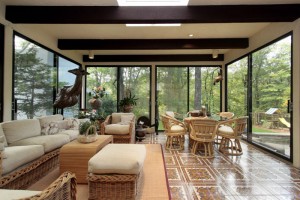 We find that an addition is at the top of many Murfreesboro area homeowners' wish lists. Nevertheless, many of our customers are surprised to learn just how within reach an addition can be. We will work closely with your architect to create a space that makes your home sweet home especially sweet. If you're still on the fence about making such a commitment, consider the following benefits to adding a sunroom to your home.
1: Get the outdoor experience without the outdoor annoyances
How often do you want to enjoy being outside but bugs, rain, or cold prevent you from doing so? With a sunroom, you can enjoy the outside views and atmosphere without getting bitten by mosquitoes or shivering in the cold on a winter day. In fact, your sunroom can be designed such that it is usable year round without the added expense of electricity. Depending on the windows you select, your sunroom can be kept warm in the winter by the sun's rays and cool in the summer.
2: Expand your home's square footage
With a sunroom addition, you're expanding the square footage of the livable space of your home. This allows you to turn that extra space into a breakfast nook, or a workout room. Perhaps you'd like a sitting area to enjoy the view, or a place where the family can gather without crowding the kitchen; a sunroom can do all of that. Not only does this benefit you for current uses, being able to spread out and have more space, but it will also pay off later when you go to sell your home. Your home will have more value based on the sunroom itself and the added square footage of the home.
3: Building a sunroom is cost effective
If you need more space, but the idea of building a room onto your home has you kissing too much money goodbye, you can attain the same benefits of an added room by instead adding a sunroom for much lower costs. This will leave you feeling like you got a lot more bang for your home improvement buck.
Whether you're adding a sunroom just for a little extra space, or for a specific purpose, you can see that doing so will be easier on the pocketbook and pay off in the end. We've been in the construction business since 2006 and will walk you through the project from beginning to end. Stop dreaming about your addition and start making it happen. For more great design ideas, please call L&L Contractors at (615) 372-4765 today!