How often do you actually take the time to look at your roof?  If you're like most of us, you're far too preoccupied with the daily goings on to pay much attention.  You run in and out of the house, shuttling the kids back and forth to their multitude of activities, and glance up at the roof-line only occasionally as you're backing out of the driveway.
Did you know that making time to inspect your roof regularly and making little fixes as necessary can help you prevent some costly repairs down the road?  It'll also help to keep those annoying raindrops from falling on your head.  Keeping your roof in good condition has another benefit that many homeowners often overlook – it means more money in your pocket if and when you decide to sell your home.
Choosing the Right Materials Makes a Difference
There are various materials that you can use for your home's roof, and each has a different lifespan.  It's important to know which materials were used for your current roof so that you'll have a better idea of how long those materials last (under normal conditions), which will help you to plan ahead as far as replacing your roof is concerned.  Our most popular residential roofing replacement materials – asphalt shingles and metal roofing – might be just what you're looking for: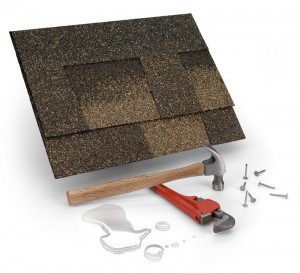 Asphalt shingles – These are a popular option due to their low relative cost, resiliency, available color options and ease of installation.  Approximately 75% of U.S. homes have asphalt shingles on the roof.  A major trade-off, as far as the lower up front cost is concerned, is that they tend to have a shorter lifespan (15-30 years depending on the grade and brand used) than other available options.
Metal roofing – This is becoming a popular option for homeowners due to its durability, low maintenance, available color options and energy efficiency.  It's also much lighter than many of the other roofing options and is resilient to inclement weather. Its lifespan (30-50 years) helps many homeowners justify spending a little extra on it up front, as they're able to reap the rewards for many years to come.
If it's determined that you do need to completely replace the roof on your home, we hope that you will give the experts at L&L Contractors a call. Our team of highly skilled and trained project managers is well known for its roofing expertise throughout the Murfreesboro and Nashville communities. Let us help you choose the best solution for your home.