Modernizing a home exterior is an easy way of bringing some life into your house by giving it a new look without having to change its walls, doors or windows. It is more than just making a few changes and adding new elements here and there; it can also involve an overhaul of the present house exterior bringing in modern features that up till now did not exist in the structure.
Modern style home exterior have their unique characteristics, be it the color scheme, bedroom layout or artistic accents—features that make them stand out from the rest. Modern exterior designs are often one of a kind and can be difficult to find, especially if you want to implement it in your contemporary house without breaking your bank account. This article will outline 5 tips on how modern style can be implemented into your home's exterior design.
1. Use Panel Siding to give a Modern look
The way your home exterior design functions and looks forms a considerable part of its aesthetic value. Your contemporary exterior should look good and match the architectural style of your home when viewed from outside while safeguarding your family or belongings from the elements and moisture.
One of the best ways of giving your home's exterior design a modern look is by replacing your current siding panels with new ones. Fiber cement siding is the most stylish material that comes in multiple colors and styles. It is generally low maintenance and affordable. Modern Fiber cement siding panels consist of vertical or horizontal lines with grooves that give it an embossed appearance, giving it a lasting effect and modern look longer than the conventional wood panels. If you need help replacing your current siding, our factory-certified experts can help.
2. Minimize the Appearance of Trim
When designing your home, every fine detail counts. That said, the exterior design is just as crucial as interior design. Trim is the finishing touches that give your house exterior a distinctive style. Without an exterior trim, your home can look unfinished, slapped together, and ramshackle. Most homeowners tend to ignore the aspect of exterior window trim design. But it affects your home's exterior continuity and character.
Since windows are the eyes of your home, if you add a modern style to them, you can change your home exterior design, particularly if it is combined with a redesigned scheme. Exterior trims to frame your window, giving it dimension and definition as well as design and style. But if you want to give your home a contemporary update, your window trim should be minimal to make other features of your house exterior stand out.
3. Make use of Neutral Colors
The color of your home's exterior grabs the attention of people viewing it from outside. There is a famous cliché, "The first impression is the last." So, you must be careful when choosing the color of your home's exterior design. If you want to give your home exterior, like a roof or windows, a modern look, consider using neutral colors for your renovation project. Neutral colors include bold blacks, warm neutrals, and blacks.
One great advantage about neutral colors is that they will help create a welcoming, warm feeling in your home without appearing overwhelming or too dark. Secondly, choosing neutral colors for your walls will help you prevent painting bright, over loud colors when showcasing your house to prospects. Research shows that neutral walls tend to sell faster- so next time you want to get your contemporary house painted, consider using neutral colors to give it a modern look.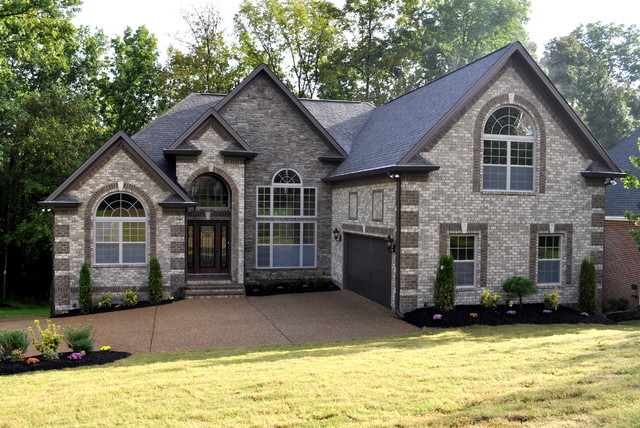 4. Color Trends for Your Brick
Brick is generally used in various home styles, including contemporary and traditional, particularly when accented with colors on your house exterior. To choose which colors work well with brick, look for the ones you find most appealing. Contemporary color schemes do best since they incorporate colors across each other in the wheel, such as orange and blue. Besides, you should know how to combine shades in the proper proportions.
Before you select exterior colors with brick, make sure you determine colors inherent to your façade. For example, a red brick may have some brown undertones while others have purple colors. Other exterior aspects of your modern house will play an essential role in determining your overall color scheme. For example, your roof is a dominant element that, based on its color, might be a crucial factor in choosing the rest of your color scheme. The color you choose for your front door, windows, trim, and other exterior elements boil down to your preferences and design.
5. Organize Your Accents
Improving your home's exterior design by organizing color ascents is a simple way to boost curb appeal. If your curb appeal makes a great initial impression, everyone (including prospective buyers) will want to view it. If you're going to give your modern house a new look, consider including the following in your renovation project.
Exterior design ideas typically focus on sleek and clean lines. Modern house exteriors intentionally do not include many visual interruptions because modern architects want to focus attention on the inside of the inner rooms where most life happens. Contemporary designers view home interior decoration to create an inviting retreat for the family, so they don't want distractions or clutter from the exterior design of the home. Modern designers might think it's essential to include a few modern accents that show off their creativity and sense of style; however, many other homeowners prefer to add more minimalist touches instead.
Let Our Experts Help You Upgrade Your Home's Exterior Design
The exterior design of your home can make a huge difference when it comes to selling your house. Curb appeal is undoubtedly an essential factor that improves the perception of your house in a competitive market. However, other things like outdoor landscape, floors, quality of building materials used and ceiling may influence a buyer's decision.
We have discussed the five modern exterior design ideas to give your home a modern look it deserves to increase its value and improve its function. Renovating your home exterior design is a complex process that requires specialized knowledge and experience. If your need help upgrading your home exterior design, Call us at 615-617-3189 or schedule a consultation with our experts to know how we can help you today.