Thinking of installing a new metal roof on your home, but don't know how to choose the right color? If you want to choose the appropriate color for your metal roof, this article will help answer some of the toughest questions that most homeowners like you have.
Metal roofing is becoming more and more popular each day since more homeowners nowadays are opting for energy-efficient and sustainable construction. One of the major reasons for metal roofing becoming famous is that it's long-lasting and durable.
Picking the best colors for your metal roof will make your home stand out in the neighborhood. However, many indecisive homeowners struggle with selecting the right metal roofing colors because such roofs come in infinite design and color options.
From classic slate blue to bold regal white and dark bronze, there is a metal roof color to suit your taste and style. This post will walk you through the process of picking new metal roofing colors and creating an outstanding home you will love.
Here is a list of the 5 most popular metal roof colors that you need to learn before you make your informed choice. Experts say that these metal roofing colors will trend in 2023 and beyond. Without further ado, let us learn about these popular residential roofing colors.
1. Matte Black Metal Roofing Colors Are Here to Stay
Black is timeless. Just like your favorite pair of shoes, black is one of the residential roofing colors with the unique ability to be timeless and trendy. Black and other dark, bold exteriors aren't going anywhere soon. As a sharp contrast to the light and bright colors, a matte black metal roof provides a sophisticated and elegant finishing touch to your house's exterior.
Nowadays, homeowners want to stand out more than fit in when it comes to residential roofing colors.
Matte black is the ideal eye-catching color option to assist set your home apart from the rest in your neighborhood. If you want something to spice up your curb appeal with a unique, striking color, then using matte black can be the perfect solution.
2. Regal White Metal Roof Color is Great for Energy Savings
Whether you have an asphalt shingle or a metal roof, white remains one of the most popular residential roof options for homeowners in the U.S.
This popularity is because regal white metal roof colors can fit almost all home styles and roofs. White metal roofing colors can complement various design styles, including coastal, modern, and traditional.
One of the primary benefits of a white-colored metal roof is its ability to reflect rays of the sun, which prevents your roof from overheating and this helps to reduce the cost of your energy bills.
White metal roofs are known to be energy efficient with a significant reduction of electricity bills in summer seasons and regulate indoor air quality within your home.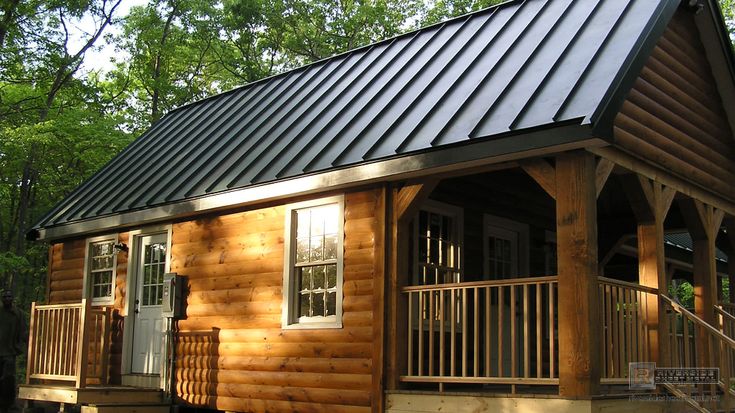 3. Charcoal Gray Metal Roof Looks Great on Provincial or Historic Homes
If you are deciding which color is the best for your metal roof, you might feel inclined to pick a neutral color that offers greater versatility- such as charcoal gray.
Charcoal gray is widely famous because of its neutral color. In addition, when installed on provincial or historic homes it can resemble the color pattern of authentic slate at a fraction of the price. Without a doubt, charcoal gray has dominated the neutral color and has become the preferred color in design and decorating in recent years because of its versatility.
Charcoal gray is a metal roofing color that appears great on a variety of homes since it is dramatic and dark but when the light reflects on it, it shows great contrast, contour, and dimension.
It obtains its name from the black carbon residue produced from burnt wood. A warm neutral metal roof such as charcoal gray will highlight a home's wooden and warm-toned accents. This makes it compatible with almost any home color. For a deep contrast, utilize a charcoal gray metal roof with siding that is of a light color.
4. Dark Bronze Metal Roof Colors Are Perfect for Colder Climates
Dark bronze shades remain a famous choice in metal roofing. Energy efficiency aside, a trend in the commercial space and home is the choice of dark bronze roofing coats.
While dark colors lose effect in their energy and heat efficiency, they are generally easier to make visually appealing than a plain metal roof. A light-colored metal roof can also assist a structure become visually appealing while retaining higher energy efficiency.
Dark bronze is a great color that will help your metal roofing have a bold finish. Naturally, dark color shades will retain heat more than lighter colors. Some options for standing seam metal roof colors in cold climates include dark bronze or black.
Dark bronze metal roof colors absorb heat, which makes them a perfect option for colder regions. They also snow melt much faster. So, incorporating a dark bronze accent on your metal roof is aesthetically pleasing and simple.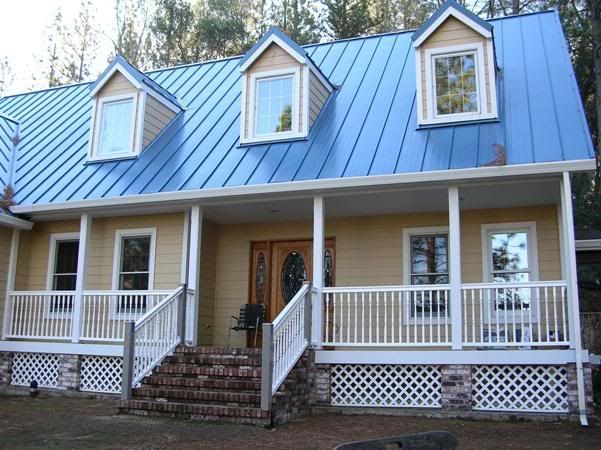 5. Slate Blue Metal Roof Colors Are Ideal for Warmer Regions
Slate blue is slowly becoming a popular metal roof color option because it looks great on farm-style and craftsman homes. Although it is better suited for cold climates because it reflects less, it is still a common color in warmer regions.
As one of the light metal roof colors, this slate blue creates a bold appearance when combined with James Hardie siding. The wood and blue accents create a compelling and interesting façade.
Slate blue metal roof colors reflect more heat than darker colors, minimizing your energy bills in warmer months. As a result, your home's cooling load reduces, helping businesses and homeowners remain comfortable and save money on their energy costs.
Final Thoughts on the popular metal roof colors of 2023
There are tons of options when it comes to picking metal roof colors, so your choice is going to be mainly determined by your preferences. Generally, you are going to choose a color that contrasts with other colors in your home or pick a color that complements such colors.
Whatever your taste or style, there will be a metal roof color that will suit your requirements! This makes selecting your metal roofing color all fun. Luckily, our roofing professionals at L&L Contractors can assist you make the right decision.
While the residential roofing colors outlined above are the ones dominating the metal industry, it doesn't imply that they fit every design or project. You should typically select a color that you love for your metal roofing project.
If your preferred color is charcoal gray, matte black, dark bronze, or something not discussed in this list of 2023 metal roof color trends- your project will turn out great and last for decades to come.
Partner With an Experienced Metal Roofing Contractor
We hope you are inspired after reading through these great residential roof color options. Remember that no matter how beautiful your metal roof appears, it won't do any good unless it is installed properly.
If you are still looking for inspiration and have problems identifying the perfect color for your metal roofing, contact the team at L&L Contractors.
Our roofing experts understand the ins and outs of successful metal roof maintenance and installations. Our skilled experts will walk you through all your residential roof color options, and you will decide if you want metal shingles or standing seam panels.
Contact our team to discuss your residential roof color options in Murfreesboro or book a free appointment online for any roofing requirements today.