If your home feels cluttered and cramped, the first thing you should do is declutter your home. Discard, donate or sell items that are not used or needed. But after doing this, you may find that your home is still cramped. Fortunately, there are many ways that you can increase the storage space in your home through home renovation and remodeling projects. Here are a few of the ways you can add more storage space to your home.
Transform Nooks and Crannies
Do you have awkward nooks and crannies in your home? If you do, those spaces may not be being used because you don't know what to do with them. A remodeling company can come in and maximize that space for storage by adding custom-made shelves, cabinets or other items that allow you to store items in this otherwise unusable space.
Add a Mudroom
Another way to increase storage space in your home is to add a mudroom. Building a small room for you to enter and exit through is an affordable way to expand your home. A mudroom gives you space to store items such as shoes, sporting goods, backpacks and other items that you or your children need to grab as you exit or drop as you walk through the door.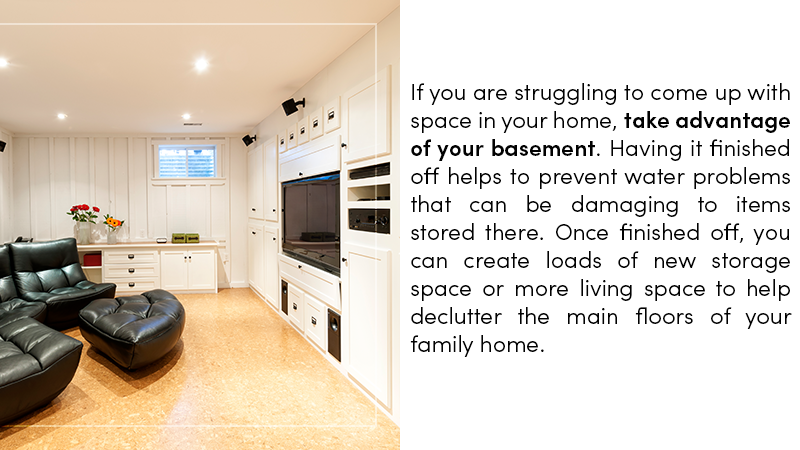 Install Shelving
When you are looking to maximize storage space in your home, shelving can instantly give you a place to store items. But many people think that they don't have the space to add shelving. However, adding shelving to closets or along the upper portion of your walls can increase the amount of storage you have dramatically without taking up a lot of wall space that you may not have. Look for stable, sturdy shelving to provide you with more storage space in your home.
Finish Off Your Basement
The last tip to increase the storage space in your home is to finish off your basement. If you are struggling to come up with space in your home, take advantage of your basement. Having it finished off helps to prevent water problems that can be damaging to items stored there. Once finished off, you can create loads of new storage space or more living space to help declutter the main floors of your family home.
When you are looking to increase the storage space in your home with remodeling, turn to L&L Contractors. We can help you with all of your remodel and renovation needs. Contact us today and let us work with you to come up with the increased storage space you need within your home.