Asphalt Shingles: The World's Most Popular Roofing Material
When it comes to affordability, versatility, durability and ease of installation and repair, it doesn't get much better than asphalt roofing. Asphalt shingles originated in the United States in 1901, and are widely considered to be the most popular roofing material on the market. Though we install a wide variety of roofs on commercial and residential properties here in the Nashville and Murfreesboro area, a great deal of our work is with asphalt shingles.

One reason asphalt shingles are so popular is that they come in a variety of color, style and design options. They are made from multi-colored rock granules that have been covered with a clay silicate mixture and a ceramic coating, giving them their color, their strong adhesive properties, and UV protection. For more benefits and features of asphalt shingles, read on.
Advantages of The Asphalt Shingle
According to the Asphalt Roofing Manufacturers Association, asphalt shingles offer the following advantages: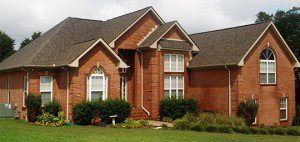 They're attractive. Asphalt shingles come in a huge array of colors and textures and in a number of shingle styles. Many manufacturers do a great job of designing these shingles to mimic the look of wood, cedar, or slate roofing.
They're affordable. The price range for asphalt shingles is wide-ranging depending on the style you select. Nonetheless, this roofing material is less than almost all others on the market today. And considering how long asphalt roofing can last, it offers superb value.
They hold up well. Deemed to have excellent uplift resistance and fire resistance and to be of optimum weight, the asphalt shingle has a long life expectancy (and usually comes with a warranty lasting anywhere from 20 years to lifetime). The asphalt shingle now has a proven track record that's more than a century old.
They're easy to install. Compared to many other types of roofing, asphalt shingles are relatively easy to install (which also helps to keep the price low). Roofers and homeowners alike also praise asphalt shingles for their ease of repair and how low maintenance they are.
Asphalt Roofing Options Available to You
Here at L&L Contractors we carry two top-of-the-line asphalt shingle brands—CertainTeed Asphalt Shingles and GAF Asphalt Shingles, both of which come with exceptional warranties. Please visit our pages dedicated to each of these shingles brands, and feel free to contact us with any questions you may have.
Call L&L Contractors today at (615) 617-3189 for your free asphalt roof consultation!
EPDM rubber roofing may be the right choice for your low-slope commercial situation. What's the best type of roofing for you?