Roofing Company in Clarksville TN
L&L Contractors passionately serve the natives of the Clarksville TN area with topnotch residential and commercial roofing services. Our roofing experts excel in roof repairs, roof installation, replacement and metal roofing services. Over the last decade, we have established a name that is widely known throughout the community in Clarksville TN and served tons of happy clients. We use high-quality roofing products such as metal roof, and provide superior customer service to create an excellent roofing experience.
We take pride in getting your project done correctly, as specified and within the budget. Our unrivaled customer service, quality craftsmanship, integrity, honesty, and respect are what set us apart from other roofers in Clarksville TN. Besides roofing, we also provide home improvement, commercial remodeling, siding, outdoor deck, and window installation services in Clarksville TN.

Clarksville, also called the Queen City, sits on the banks of red and Cumberland Rivers. It boasts of rivers, rolling hills, and other recreational facilities within the vicinity. Boating, hunting, and fishing are popular outdoor activities in the Queen City. Clarksville has a diligent and hardworking community, with most of them working with companies like the American Standard, Akebono Brake Corporation, Trane, amongst others. There are two public golf courses in Clarksville TN, where golfers can relax and enjoy after work or during weekends.
Housing prices are reasonable in Clarksville TN; various options for residential living are available, including condominiums, well-established homes from older neighborhoods, and custom-built homes. After analyzing what major roofing contractors in Clarksville TN, were offered to residents, we realized there is still untapped demand for professional roofing services. That's why we came in to give business and homeowners the peace of mind they deserve.
Clarksville Home Improvement Services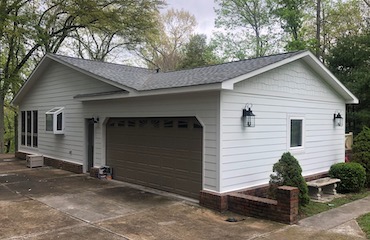 Siding
Give your Clarksville home or business a face-lift with durable James Hardie Fiber Cement Siding. Our siding installation professionals are factory-trained and carry various siding textures, colors, and styles to fit your preferences.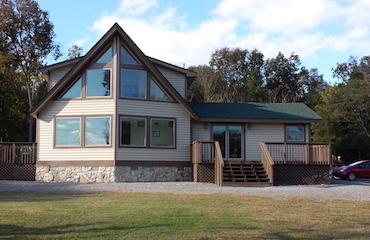 Windows
We provide windows installation services to businesses and homeowners in Clarksville, TN. Our energy-efficient windows help to seal off your property effectively. Besides, they come with various styles and colors to improve your curb appeal.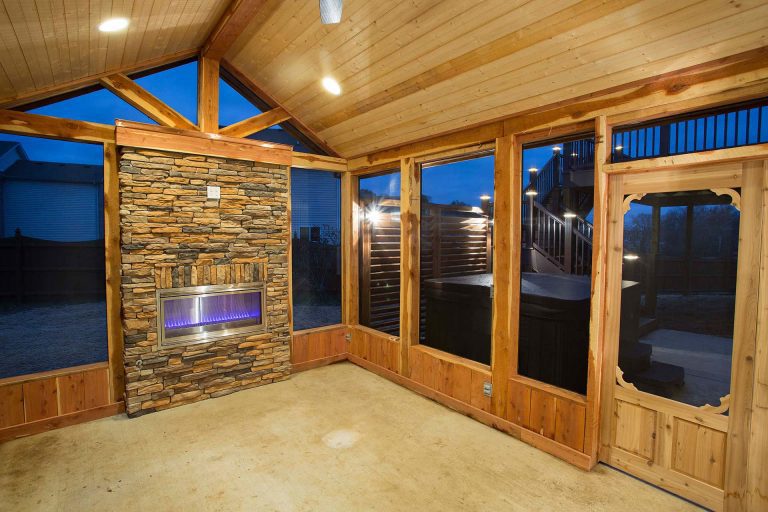 Additions
Building an addition to your home is an excellent way to expand your home while increasing value. Instead of moving, hire the professional team at L&L Contractors to complete an addition, add a sunroom, or take down a wall or two for improved flow.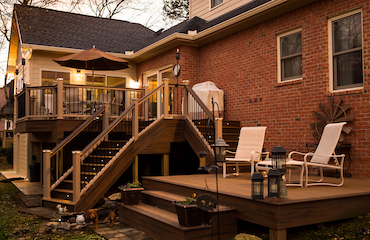 Decks
We offer professional and high-quality deck construction services to our esteemed clients in Clarksville TN. Our technicians expertly create custom decks that seamlessly integrate into exterior spaces and homes. Decks allow property owners to enjoy their outdoor spaces regularly.

Get in Touch With the Most Trusted Roofing Contractor in Clarksville TN
Clarksville is a great area in which to live and work. The entire team from L&L Contractors is committed to helping property owners in Clarksville maintain comfortable and safe homes and buildings. We're here for all your repair and renovation needs. If you are looking for professional roofing contractors, siding installation services, or roof repair in Clarksville TN, your search stops here. Schedule a consultation with one of our experts to get free estimates or give us a Call at 615-617-3189 to know how we can help your home or business today.
Columbia is rich in history, recreation, commerce and community spirit. No wonder we love having it as one of our great service locations.
We take pride in offering excellent customer service and top-quality craftsmanship. 95% of customers recommended our siding installation and roofing services. 
We were referred to L&L Contractors by our realtor due to a home inspection of our house for sale. We were very impressed with how quickly Robert responded and how quick he was able to fix the roof issues. He acted with excellent professionalism and a great sense of urgency in a time sensitive situation. Thanks Robert – we appreciate you.
I would recommend Dave Gilday and L&L Contractors to any company who manages multiple properties. They address our needs including the smallest details and make our job a lot easier knowing that we can expect what we contracted them to do will be done when they say it will be done.
L&L Contractors did a phenomenal job! Brad, the project manager, was very thorough from quotation to completion. We were kept informed every step of the way. Brad was knowledgeable and easy to do business with. Our new roof looks great! Highly recommend to anyone in the market for a new roof, comes with a great warranty too.
L&L Contractors recently replaced all the windows in our house and added a French door. Trey Palmer, the Project Manager, provided a prompt estimate and was most helpful with product and color selection. They made sure that the work was completed to our satisfaction and delivered excellent results. We will not hesitate to use them for our home improvement needs in the future.
L&L Contractors recently supervised roofing a garage project for us and I was thoroughly impressed. Service, follow up, phone contact, price, and most importantly, finished product were all stellar. I'll use them, impressed by the work and recommend them going forward.
Our church had a large
roof replacement
project on the very large roof section over our sanctuary. L&L Contractors was instrumental in completing this project for us. They were competitively priced, communicative throughout the project, and they were very accommodating of our church activities and making sure they did not disrupt anything we had going on. Dave Gilday, the project manager, was at the project making sure the project went just how we wanted it.