Roofing Company in Shelbyville TN
The roof is one of your home or business's most crucial components that protects your family and valuable possessions from the harsh outdoor elements. From basic roof repairs, replacements, and new installations, Shelbyville residents rely on L&L Contractors for topnotch commercial and residential roofing services. As a locally certified roofing company in Shelbyville, TN we partner with leading manufacturers of metal, asphalt shingles, siding, and flat roof applications to ensure that you get most out of your roof. We go above and beyond other roofers in Shelbyville, TN by doing any other associated job you require, such as siding, high energy efficient replacement windows, outdoor decks, and commercial remodeling services.
Our dedication to quality craftsmanship, honesty, hard work and superior customer service has been the pillar to our success. Our roofing professionals are highly-trained and experienced in residential or commercial roofing systems. We are insured, licensed, bonded, a member of the Better Business Bureau, GAF products certified contractor, and a James Hardie Elite Contractor, which helps us to provide extended warranties on your complete roofing system that other roofers in Shelbyville cannot offer. We have been working in and around the Middle Tennessee area for more than ten years and have a strong reputation for providing exceptional roofing services for businesses or homes of all sizes and shapes.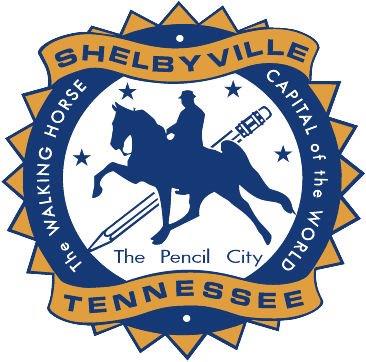 Fascinating Facts about Shelbyville TN
Shelbyville TN also referred to as the Walking Horse Capital of the world, is a great place to live and work. The city boasts of state-of-art recreational amenities and vibrant youth sports programs. You can do various things in this city including visiting a nearby horse farm and learning how to ride, see an art exhibit at the Fly Arts Center in Shelbyville, bike or hike along a scenic country road or fish at the beautiful Duck River. Shelbyville homeowners associations make sure that the neighborhood maintains property values and remains in good shape. We came in because we believe residents of Shelbyville deserve the best roofing services to protect their properties from the elements.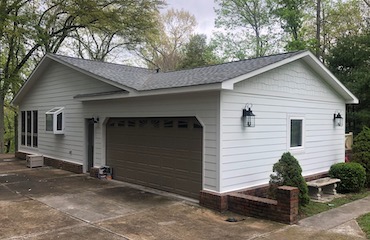 Siding
Don't let that old siding with holes, cracks, or fading reduce the curb appeal and potentially affect your indoor air quality. Our certified James Hardie siding installation experts can walk you through various options to make sure that you choose the right siding material that suits your budget and preferences.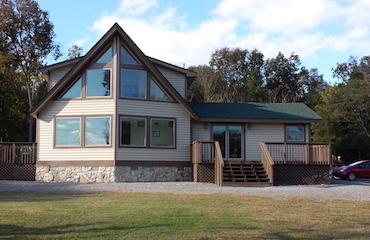 Windows
Windows can improve the curb appeal, offer better ventilation and lighting of your home or business. We can help you increase ventilation or brighten up your rooms with high-quality replacement windows.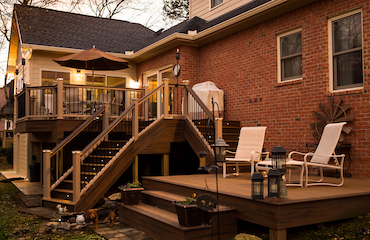 Decks
Decks help to make your outdoor space more enjoyable, thus enhancing your experience. If you are searching for a reputable contractor to install or repair an existing deck, you can count on our builders to do a perfect job.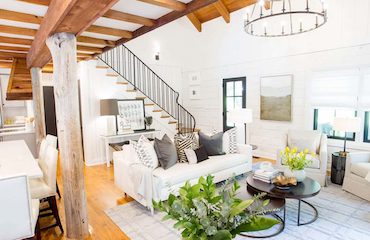 Remodeling
Home remodeling is a massive undertaking for any property owner. But when done right, home remodeling delivers a high ROI while increasing the value of your property. Our remodelers will work with you to make sure that your property is functioning at its peak performance.

Schedule Your Appointment
Professional Roofing Contractor Shelbyville TN
If you are searching for a roofer to help you in roof repairs, siding, commercial remodeling, installation, or replacements in Shelbyville TN you can count on L&L Contractors to do an excellent job. Our professional roofing contractors will visit your property to inspect and evaluate your needs to develop the best solution.
Please schedule an appointment online or give us a call at (615) 617 3189 and let our team help with all your roofing, siding, remodeling needs today.
Kindly check our service area page. On this page, you can view where we provide our roofing and siding services in different areas of Middle TN.
We take pride in offering excellent customer service and top-quality craftsmanship. 95% of customers recommended our siding installation and roofing services. 
We were referred to L&L Contractors by our realtor due to a home inspection of our house for sale. We were very impressed with how quickly Robert responded and how quick he was able to fix the roof issues. He acted with excellent professionalism and a great sense of urgency in a time sensitive situation. Thanks Robert – we appreciate you.
I would recommend Dave Gilday and L&L Contractors to any company who manages multiple properties. They address our needs including the smallest details and make our job a lot easier knowing that we can expect what we contracted them to do will be done when they say it will be done.
L&L Contractors did a phenomenal job! Brad, the project manager, was very thorough from quotation to completion. We were kept informed every step of the way. Brad was knowledgeable and easy to do business with. Our new roof looks great! Highly recommend to anyone in the market for a new roof, comes with a great warranty too.
L&L Contractors recently replaced all the windows in our house and added a French door. Trey Palmer, the Project Manager, provided a prompt estimate and was most helpful with product and color selection. They made sure that the work was completed to our satisfaction and delivered excellent results. We will not hesitate to use them for our home improvement needs in the future.
L&L Contractors recently supervised roofing a garage project for us and I was thoroughly impressed. Service, follow up, phone contact, price, and most importantly, finished product were all stellar. I'll use them, impressed by the work and recommend them going forward.
Our church had a large roof replacement project on the very large roof section over our sanctuary. L&L Contractors was instrumental in completing this project for us. They were competitively priced, communicative throughout the project, and they were very accommodating of our church activities and making sure they did not disrupt anything we had going on. Dave Gilday, the project manager, was at the project making sure the project went just how we wanted it.