If you have finally decided to replace your outdated siding and have hired a local installation contractor, it is crucial to know what to expect during the entire project. While no two jobs are created equal, some common steps typically come with all siding replacement projects.
No one wants a shabby, outdated exterior on their home. However, many homeowners start to replace their siding without understanding the important steps to take during, after, and before the installation process. Luckily for you, this post will walk you through the process of getting siding replaced on your home, from ways to prepare your home, questions to ask the contractor, and other crucial information to help your remodeling project go seamlessly as possible.
Know How to Prepare for a Siding Replacement
Just like any home improvement project, you must prepare before embarking on a siding replacement project to make sure that all things go smoothly. Apart from inquiring about materials and cost you will inquire about the project, also ask about the timeline to help you prepare before the project begins and manage your expectations. Here are some steps that you can take while waiting for your siding replacement contractor to arrive in your home:
Prepare the outdoor area: Move anything that might block the siding replacement crew from accessing your exterior walls like patio furniture or firewood so that they can work smoothly on your property. You should also think of removing wrapping shrubbery and outdoor decorations to prevent any accidental damage. Trimming your grass will assist your crew find debris or nails that could go astray.
Remove items inside your home: During the process of removing the old siding and replacing a new one, the walls of your home might vibrate. Get rid of any hangings on your wall such as framed photos or art pieces. Fragile items like interior decorations and flower vases may fall from your shelves and tables because of all the vibrations on your home's exterior.
Give a Power Outlet: To make sure that the siding replacement crew obtains access to power, it is advisable to have a clear power outlet.
Make alternate arrangements: Siding installation is typically a noisy process. So, if you have pets, make sure you make different arrangements for them during your siding replacement project. If you operate from home, you may wish to make other arrangements beforehand.
Trim shrubs and trees: Because you might have shrubs or trees near your property's exterior, you should trim them so that they don't interfere with your siding installers.
Park your car down the street: If you have a car in your garage, you may want to relocate it somewhere in the street or in your neighborhood. This helps to keep your driveway clear to let access for delivery of the new siding materials and hauling away the old ones from your compound.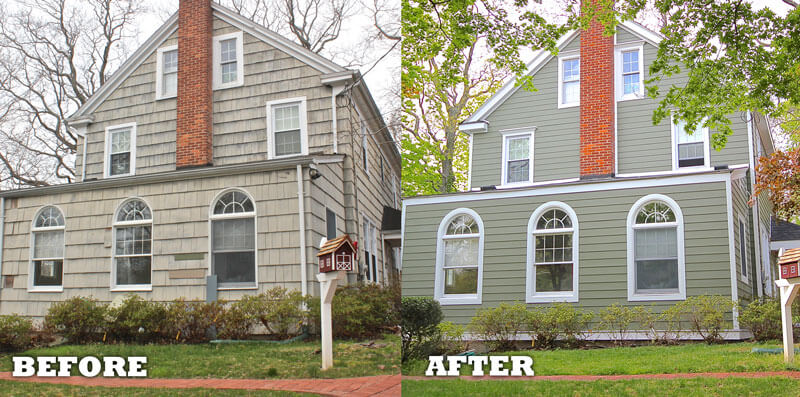 What to Expect Before Construction Begins
Before the construction, you can expect your contractor to send a dumpster and deliver your new siding one or two days before the actual installation crew arrives. However, some areas need a permit for rental bins or dumpsters, so ensure that you coordinate with your local siding contractor and authorities so that you don't encounter any problems.
Not all regions will allow building materials or dumpsters to be left on the street, so let the crew know precisely where in your driveway you want such materials to be placed. Generally, the crew may want them as close to your house as possible, however, you may not want to block your garage access route. Dumpsters are heavy, so if you are worried about them damaging your driveway, request the driver to put wood under the main pressure points.
Expect The Unexpected Repairs
Every siding replacement project is unique, and you should not be amazed if your installation contractors uncover unexpected problems that require to be repaid. When your torn and old siding is eliminated, you might note unforeseen problems. These unexpected problems may seem like trouble, but it is advisable to learn about and fix them before your new siding material is installed.
Once the contractor tears off your old siding and makes any repairs that are needed, he will install a weather-resistant barrier on your home. This is known as a house wrap that safeguards your home from water while helping it to breathe out. These unexpected repairs are not out of the ordinary, but it's good to fix them before your new siding material is installed. Otherwise, you will probably deal with huge, expensive problems in the future.
New Siding Installation by Professionals
Once the siding is removed and repaired, the crew will begin to replace or install the weather-resistant barrier on your home, otherwise referred to as house wrap. This wrap safeguards your home by offering breathability and water resistance to the structure of your home. Once this is successfully done, the crew will start to install your new trim and siding.
A typical tear-off and siding installation can take approximately seven to 14 days. But, there are several factors that can prolong this expected period, such as unexpected repairs and whether or not your new siding requires it to be painted.
Hire a Trusted and Licensed Contractors for Siding Replacement
Whether your home requires a facelift, or you are realizing your exterior is worn out and susceptible to water damage, investing in a new siding is an effective way to upgrade your home. If you want your siding repaired, search for a company like L&L Contractors. What distinguishes us from other siding installers is our ability to offer a full-service approach to any job, big or small. Our goal is to create clients for life, and that implies offering you the best in superior products, skilled workmanship, and customer service.
Don't take our word-read our reviews online and see what other Middle Tennessee homeowners are saying. If your siding requires to be replaced, we are ready to help. Our experienced team can transform your home's exterior, offering it an improved appearance. Schedule a free appointment with our team to assist you in your siding replacement project today.