Rutherford County is one of the fastest-growing places in the nation. For this reason, real estate prices have skyrocketed over the last few years. The rising cost of purchasing a new home has caused many homeowners to hold on to what they have and make it better.
Our recent clients were in that exact same boat. They were feeling the pressure of new developments going on around their home. Sitting on the back-porch relaxing was no longer as enjoyable and they were getting ready to make a move.
While perusing the listings and figuring out what they really wanted in a home, the only thing that stood out was that many of the features they wanted were in the home they already owned. Their home just needed a boost. They wanted a place they could go to feel more comfortable. They wanted to bring the country life to their suburban home. That's when they called L&L Contractors.
At the initial consultation, we assessed the needs and wants of our client. We looked at what they wanted to do, and what we needed to do to make this happen for them.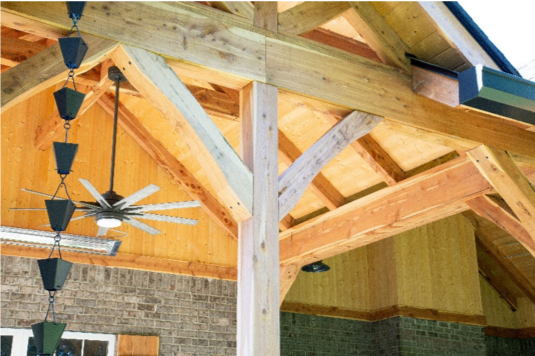 We addressed the layout of the land, how they wanted things to look and feel, and what the best possible outcome for them would be.
After the meeting, we put pen to paper drafting some renderings of what we could do and discussing them with the client. Doing this helps us better understand our clients and share a vision we can all get behind.
As I mentioned our clients were looking for something with a classic country style that was durable, long-lasting, and fit with the style of their existing home. They really wanted a mountain getaway just outside the back door.
Using this information, we designed a beautiful 40'x23' covered back porch area. To get that country cabin feel we framed the porch using local Tennessee Red Cedar. We love working with cedar, not only does it have amazing weather resistance, the color variations and aroma it brings automatically trigger multiple senses that can put you in a very welcoming and relaxing state.
We designed three gables with a detailed facade to add the open air feel and bring an exquisite appearance from the back yard. The roofing structure was nicely finished on the inside with tongue and groove pine, ceiling fans and stylish post lighting bringing the outdoors feel to the inside of the porch.
For the flooring, our clients wanted the look of an old deck, but maintenance and longevity were always a concern. After some research, we found a product that perfectly fit our clients' needs. With style, design, and durability in mind, we decided to use 12"x48" porcelain tiles by NooN. The Ember color gave our customers the desired look they wanted and maintained the elegant style of this fantastic space.
What's cozier than resting by a nice warm fire? Nothing! So, we had to add a beautiful custom build stone fireplace to the amazing area. This fireplace was custom built to fit in the corner area of the porch so it could be appreciated from almost any angle.
This placement also allowed us to keep the open view concept over the back yard by not blocking a large portion of the center area. The fireplace was fit with a gas insert for a clean burn and easy maintenance. We continued with the red cedar design for the mantle and the two front supporting columns.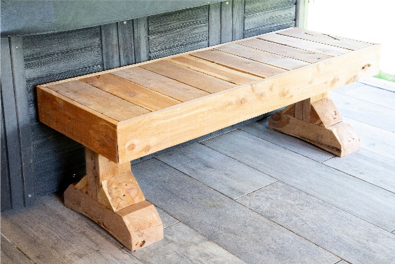 Our clients have fallen in love with this space. They even crafted a sweet bench for the hot tub out of scraps we left in a pile during the framing stage. We threw in a barrel straight from the Jack Daniels distillery here in Tennessee to accent a gutter area that diverts water underground to a different area of the yard.
At L&L Contractors we love to do jobs like this, and clients that appreciate our style really make our job fun! On this project we hit all the customer's needs and wants, addressed the concerns, and delivered an impeccable product that will be enjoyed by their friends and family for years to come.
If you are interested in a project of your own, please contact us or call our office at 615-617-3189.