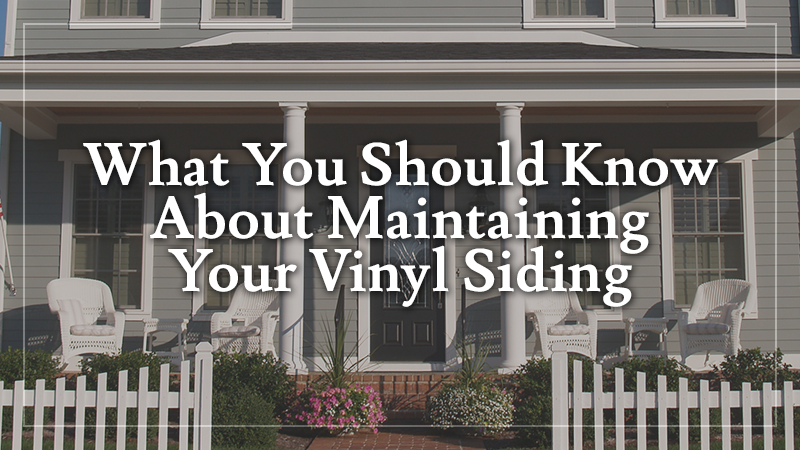 There are many reasons why homeowners choose vinyl siding over other types of siding. Vinyl is less expensive, flexible and durable. Also, insulated vinyl siding can help to reduce household heating and cooling costs. These are all good reasons to install vinyl siding on your home, but perhaps the number one reason people choose it is because vinyl cuts down on the time and cost of maintaining a home.
How to Maintain Vinyl Siding
The truth is, after installing vinyl siding, there is not a lot of maintenance which you need to worry about. But no siding is completely maintenance-free, and there are a few occasions when you may need to care for your vinyl! Don't worry — maintaining vinyl siding usually takes only a fraction of the time it would take you with more traditional siding.
Securing a piece of vinyl siding. During a storm or over time, pieces of siding can become loose and peel off your home. It is very important to re-secure it to your home as quickly as possible. When you let the siding flop around unattached for too long, it can become bent or scratched enough to require replacing which is an additional expense you should not have to worry about. Remember, when reattaching vinyl siding, work from the top down and carefully remove each vinyl strip until you reach the one which has become loose.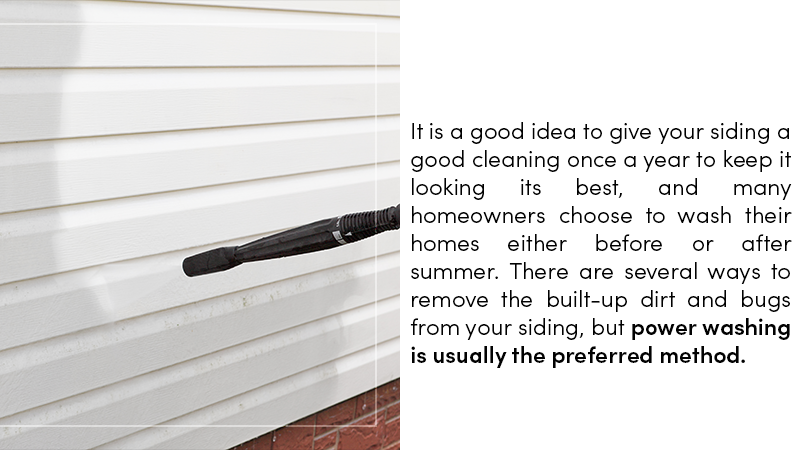 Give your siding a good cleaning. It is a good idea to give your siding a good cleaning once a year to keep it looking its best, and many homeowners choose to wash their homes either before or after summer. There are several ways to remove the built-up dirt and bugs from your siding, but power washing is usually the preferred method. It's the fastest way to give your home a good cleaning, but unless you own a power washing unit, you will need to rent one or pay a professional to do it for you. A less expensive, yet more time-consuming option, is using a stiff-bristle brush and soapy water.
Protect it. The best way to avoid creating additional maintenance work for yourself is to treat your siding well and protect it from damage. That means making sure to avoid dents and dings. Park far enough away from your home to allow you to open your car door without banging into the siding and always trim branches which overhang your home to prevent them from falling and causing damage. If you have an outdoor grill, use it away from your siding because it can melt if exposed to enough heat.
Are you thinking about upgrading your home's siding to vinyl? L&L Contractors has been serving Middle Tennessee resident's roofing and remodeling needs since 2006. If you are looking for a dependable contractor who can tackle any siding, windows, gutters, roofing, additions, decks or other handyman services, L&L Contractors can help. The company uses only highly trained vinyl siding installers and quality products like those from JamesHardie. Call 615-617-3189 to schedule an estimate.