Are GAF Asphalt Shingles Right For You?
The roofing veterans at L&L Contractors frequently turn to the GAF brand to supply a product that will be both beautiful and long-lasting for our customers in and around Murfreesboro. GAF is North America's largest manufacturer of commercial and residential roofing, and has been in business for more than 125 years. The company specializes in asphalt shingles and conducts hundreds of tests on the shingles it produces – so you can be sure that your GAF shingles don't skimp on toughness, granule adhesion, flexibility, fire resistance, or wind uplift resistance. In fact, all of GAF's shingles pass the industry's two toughest wind resistance tests.

Advantages of GAF Asphalt Shingles:
Rated No. 1 in shingle quality by contractors and home builders.
Great option for homeowners on a budget and homeowners who want a custom, luxury look.
Most of GAF's durable shingles come with a lifetime warranty.
Easy and quick to install.
All GAF installers are specially trained to safely and effectively install the product.
Beautiful and stylish shingles that closely imitate the look of more expensive slate or wood shake shingles.
Also available for use on commercial roofs.
Types of GAF Shingles:
From basic protection to designer shingles, the GAF brand has a class of shingle for every roof imaginable.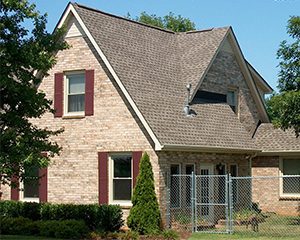 Basic Protection Shingles: These economical three-tab shingles come with either 25 or 30 year limited warranties and are made in a number of different colors. They have classic detailing and the traditional appeal inherent in the basic three-tab shingle.
Timberline Shingles: Those of us at L&L Contractors most frequently recommend the Timberline Architectural Shingles, which is the No. 1 selling shingle in North America because of its lifetime warranty and its many color options. The Timberline does a great job of mimicking the much-loved look of wood shake.
Specialty Shingles: GAF's line of Timberline Specialty Shingles has all the same advantages of the basic Timberline shingles but with some attractive extras. The Cool Series shingles reflect sunlight and effectively reduce the build-up of attic heat to save you money, while the ArmorShield II shingles are classified as Class IV impact resistant and may save you on insurance.
Designer Choice: If it's a gorgeous, highly dimensional roof that you want – one that you will never again have to replace – you'll want to ask us about GAF's ultra premium shingles, which provide all the beauty of expensive slate, wood shake, clay tile, and even hand-cut European roofs at a fraction of the cost.
Do you have questions about which roofing material is right for you? Call L&L Contractors today. If you live in the Nashville area, we would be more than happy to conduct a free roof inspection and to give you an estimate for repair or replacement. Call us at 615-617-3189 today! 
Another popular and reliable asphalt shingle is manufactured by Certainteed and they provide many years of protection for your home or business.