The Right Roofing Solution For Your Business
If your Murfreesboro or Nashville area business has a flat roof or a roof with a low slope (as so many commercial spaces do), you'll want to consider an alternative to the asphalt shingles used so commonly in residential applications. One great option available to you is EPDM rubber roofing. EPDM stands for "Ethylene Propylene Diene Monomer," which is a synthetic rubber compound that, over the past 40 years, has become the material of choice for both new and reroof low-slope roofing applications.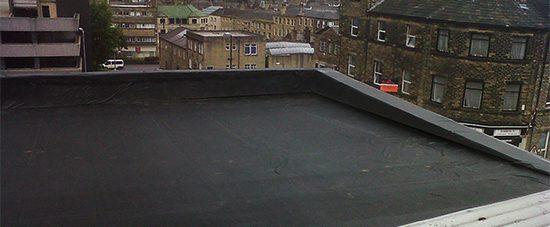 Why Choose EPDM Roofing??
There are many advantages to EPDM roofing. The seasoned EPDM roofing professionals at L&L Contractors have seen the following benefits:
Membrane fatigue resistance
High resistance to wind damage and hail
High resistance to ozone and weather-degradation
Flexibility in low temperatures
Resistance to intense heat and fire
Ability to resist heat-induced expansion and cracking
Resistance to ultraviolet rays
Does not pollute run-off rainwater



Types Of EPDM

Black EPDM: The most common type of EPDM, this roofing material is lauded for its UV resistance. To achieve the black color of this membrane, carbon black is added, which converts UV rays into heat.
White EPDM: White EPDM takes black EPDM's already energy-efficient ingredients to the next level of UV resistance. The white membrane is designed to be highly reflective and environmentally friendly so that business owners will enjoy a decrease in energy costs. Unlike black EPDM, the white EPDM membrane has seen the addition of titanium dioxide, which reflects UV rays and protects the polymer. In fact, we've seen the installation of EPDM roofing reduce air-conditioning costs for many of our clients throughout the Nashville and Murfreesboro areas.
Ballasted, Mechanically Attached, or Fully-Adhered Systems.
Ballasted Systems
Ballasted systems, account for 35 percent of all EPDM roof installations today. Using large panels of 50 feet by 200 feet, these systems offer fast coverage at an affordable cost. These panels are loosely laid over the insulation and held firmly by the concrete pavers. Ballasted systems are typically used for massive new construction projects, but can be employed on recovery or roof replacement projects. The stones are placed on top of the roof membranes to prevent any leaks in the ballasted systems. Ballasted systems are conventionally easier to install and are rated Class A by the Underwriters Laboratories.
Mechanically Attached Systems
Mechanically attached systems are installed using large panels which are connected through the membrane or thin panels attached to the side laps. Building owners can opt to either use scrim reinforced or non-reinforced membranes depending on their needs. The EPDM membrane is later assigned to the underlying deck using round plates of batten strips. Mechanically attached systems are suitable for all building configurations and sizes because of their lightweight.
Fully Attached Systems
The fully adhered systems use panels that measure up to 30 feet by 100 feet. The membrane is later joined to the insulation which has been attached using mechanical fasteners, adhesives or stress plates. Either scrim reinforced, or Non-reinforced membrane can be employed, but the non-reinforced membrane produces the best-adhered installations. The stones are placed on top of the membranes to make the installations stronger. Fully adhered systems are ideal for all building configurations and sizes, including high-slope buildings. Due to the recent advancements in technology, these systems are slowly becoming the preferred choice for roof replacements projects in several areas around the country.
If you have questions about what type of roof is best for your Nashville business or want to know more about EPDM rubber roofing, contact L&L Contractors today. We offer free roofing inspections and will be happy to provide a bid to repair or replace your roof. Call us today at (615) 617-3189!
TPO® energy efficient roofing is another great choice for commercial installations. Find out more about this type of roofing when you give us a call.