All About Max-Rib Metal Roofing
Options are great to have, but sometimes choosing between them can be overwhelming. If you know you want a metal roof but can't determine which type is best for your middle Tennessee home or business, you've come to the right place.
At L&L Contractors, we work with the best metal roof manufacturers in the industry, and have extensive experience in roof installation, roof repair and maintaining all types of roofing. During one of our free roofing inspections, we'll be able to deduce which is best for your property based on your needs, wants, and budget.
One of the most popular metal roofing options we provide is Max-Rib roofing, which is lightweight and designed for durability. Read on for more information on what makes Max-Rib metal roofing so great.
What You Need to Know About Max-Rib Metal Roofs
L&L Contractors gets its max-rib metal roofing from Murfreesboro's own Metal Max. The metal we use is available in both .29 and .26 gauge galvalume (which is 2x more resistant to corrosion than galvanized) panels, and is coated in Valspar paint (which is incredibly durable and stain-resistant).
Choosing the type of metal panel that is best for you will depend on the desired application. If you need a simple shade and shelter panel, the Max-Rib Utility will likely suit you just fine, whereas any residential application will require the Max-Rib Ultra panels, which are protected by a Galvalume substrate with a fade and chalk resistant Kynar 500 based Fluropon® paint system.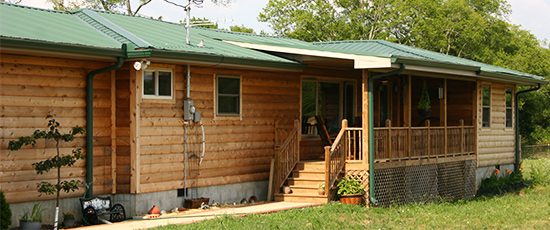 Advantages of Max-Rib Roofs
Max-Rib is a light-gauge roofing option with exposed fastener panels that can be used in commercial, residential, and agricultural applications.
This is a workhorse brand known for fighting hard against the tendency of a metal roof to fade or "chalk," which occurs when tree leaves rub chalk off the panels and cause them to fade over time.
Its resistance to these common problems is due to the ThermoForming process that all Max-Rib panels undergo. Due to the painting coating and zinc in the metallic galvanized coating on each Max-Rib panel, they are protected from tension bend cracking and premature corrosion.
Max-Rib panels are low profile (3/4″) and can be installed on as low as a 1:12 pitch if sealant is used on the sidelaps. The ideal pitch for a Max-Rib roof is 3:12, according to the manufacturer.
Want to know if a Max-Rib roof is a good option for your Murfreesboro property? Reach out to L&L Contractors today at (615) 617-3189, and we can tell you about this and other metal roofing options available to you.
We'd love to talk with you about whether R-Panel metal roofing is a good choice for your metal roofing project.