Durable & Attractive Standing Seam Metal Roofs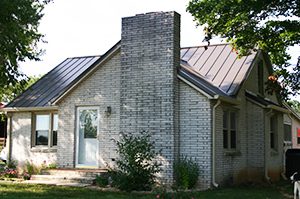 Many of the higher end homes and businesses in our area have standing seam metal roofs made of coated steel or aluminum. A standing seam roof is made of continuous panels that are anywhere from 12 to 19 inches wide and that run from the top ridge of the roof down to the eaves. The panels are connected by raised seams and fastened by seam fasteners that are concealed from view.
By Nature, Metal Roofs are Incredibly Durable
By metal roof installation in your home or office, you can enjoy peace of mind knowing that you and your assets are securely sheltered from nature's harsh elements, and that your new roof will not be easily damaged. In addition to offering security, standing seam metal roofing offers versatility. Available in a variety of styles and colors, metal roofing allows you to pick roofing that will perfectly compliment the outer décor of your home.
Advantages of a Standing Seam Roof
The biggest advantage to standing seam metal roofing is that the fasteners are hidden, not just from sight, but from the corrosion-causing elements. As a result, the seams should last forever. Some other advantages are: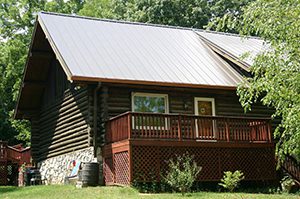 Seams are normally the weak point of any roofing installation; however, because the seams on this type of roofing are raised or "standing", it helps prevent water from entering.
A standing seam roof has far fewer seams than a traditional roof since there are no horizontal seams (only vertical seams).
These roofs are tough and built to withstand most of the elements. Severe hailstorms and falling tree limbs are exceptions to this rule.
According to the U.S. Environmental Protection Agency (EPA), metal roofs are "Cool Roofs" (especially when painted a lighter color), because they prevent solar heat gain.
Standing seam metal roofs are versatile—looking equally at home on a country farmhouse as on more contemporary architecture. They're also available in a wide variety of colors, giving you more options than you'd have with shingles.
This metal roofing variety is less expensive than slate or copper roofing.
If you live in Murfreesboro, Nashville or the surrounding area and are interested in a standing seam metal roof, you can trust Murfreesboro Roofing Company, L&L Contractors with the job. We install more metal roofs across Middle Tennessee than any other roofing company, and stand behind our products and our work.
For more information on standing seam metal roofs, call L&L Contractors at (615) 617-3189. We happily offer free roof inspections and estimates!
You might also want to consider Max-Rib metal roofing. Here at L&L Contractors, we can guide you through all our metal roofing options.